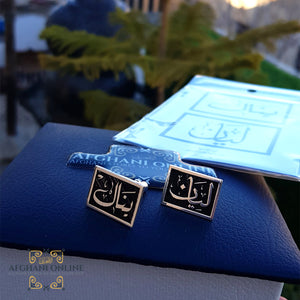 Silver 925 Cufflinks Arabic Names rectangle أزرار قميص كفلنجنز مستطيل فضة خط عربي
Silver 925 Cufflinks laser Names circle Layered.
أزرار قميص كفلنجنز دائري فضة طبقتين ليزر

As a gentleman, you should regard cufflinks highly. Because cufflinks symbolizes 

power, reputation and wealth

, you should choose only luxury made cufflinks when you want to buy them to be worn by you or to be a special gift for someone you respect.

Handmade by our silver smith team in sterling silver 925.
High quality is essential when we present our product. 
We deliver worldwide.
We make Names and Shapes in Swiss Silver of caliber 925, many options we provide with the cufflinks, write your name to be made personalized and have the finest quality of handmade cut.

---
We Also Recommend
---